Grapefruit, Latin name Citrus paradisi, is a citrus fruit grown in many places around the world such as South Africa, Mexico, and around the United States, including California, Arizona, Texas, and Florida. It is grown year round, but peak season is December through April. Conventional grapefruit ranks at #24 for produce affected by pesticide residue, so it is a good item to choose to buy organically if you have concerns about pesticides.
Grapefruits come in a few varieties, including white (blond), pink, and ruby. When picking a grapefruit at the market, choose ones that are heavy and smooth on the outside. Avoid browning or soft spots. Store at room temperature if consuming within the week or refrigerator drawer for keeping 2-3 weeks.
Grapefruit provides many vitamins and minerals but is best known for the high content of vitamin C, being a citrus fruit. One medium grapefruit provides 59% daily value (DV) of vitamin C, 7% DV of B5, copper, and vitamin A, and 4% of B1 and B7. Besides being a source of these wonderful nutrients, grapefruits have additional antioxidant power you can see in their beautiful color called lycopene. Antioxidants help to fight free radicals that damage cells. This particular antioxidant is thought to be important for men to reduce prostate cancer risk. Research has found that a diet rich in fruits and vegetables containing lycopene is associated with lower prostate cancer risk in men.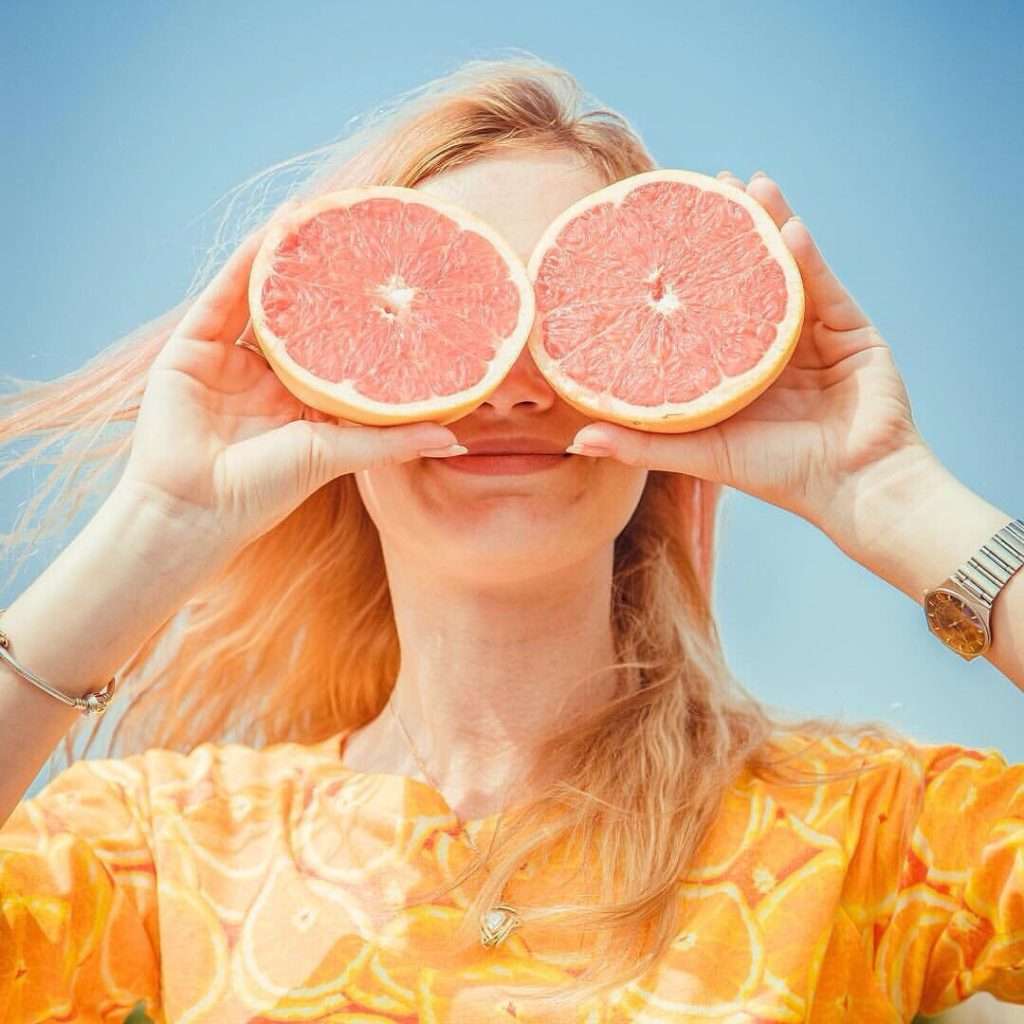 Did you know grapefruit can impact your medications? Certain drugs become more potent when taken near grapefruit ingestion as it affects enzymes that are used to process drugs in the liver and digestive tract. The list of affected medications is extensive, so talk to your doctor to see if you can safely eat this fruit often. Some affected drugs include but are not limited to statins, cyclosporines, calcium channel blockers, antihistamines, hormones and antivirals. These are known to be impacted by grapefruit in research, and interaction should be avoided. It slows the body's natural ability to metabolize and detoxify substances and eliminate them properly. This is why grapefruit juice is often not allowed in long-term-care facilities or hospital settings where medications are common.
Help support your oral intake and baseline levels of vitamin C by including a diversity of fruits and vegetables in your diet. Grapefruit is a nice option to mix up your flavor profile and get a high dose of antioxidants and other essential vitamins and minerals in one versatile fruit. Enjoy!
Quick facts
Flavor: tart, tangy, sweet
Excellent source of vitamin C
Low sugar compared to many other citrus
Serving ideas
Section the fruit and add to salad
Squeeze as juice with breakfast